What's not to love about this set?!
Downtown Madison, WI has no shortage of places to take beautiful photos.
Whether you're shooting architecture, street photography, or portraits, you can always find a fun and creative location in downtown Madison.
In this set, I captured an emotional New Year's Eve proposal on the Monona Terrace.
My client and I chose this location because it showcases a clear sight path to the Capitol in the background. The Monona Terrace is the perfect distance to capture the expression on the subject's face, while also being able to keep the entire Capitol building in the frame.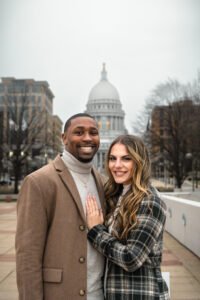 After the proposal and a couple of minutes to gather our composure, we walked around Capitol square to capture some engagement photos. Luckily right when we got to my favorite location, it started to snow!
The snow helped by adding depth, paired with the reflection of the glass U.S. Bank building next to the couple, it really made for some magical photos!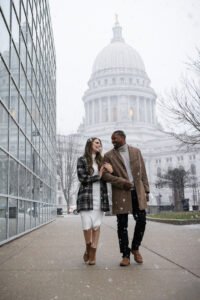 Be sure to check out some of these locations next time you're taking photos near the Capitol in Madison, WI!